The open-source kanban (built with Meteor). Keep variable/table/field names camelCase. For translations, only add Pull Request changes to wekan/i18n/en.i18n.json , other translations are done at https://transifex.com/wekan/wekan only.
Wekan - Open Source kanban
Translations to non-English languages are accepted only at Transifex using webbrowser. New English strings of new features can be added as PRs to edge branch file wekan/i18n/en.i18n.json .
Please add most of your questions as GitHub issue: Wekan feature requests and bugs. It's better than at chat where details get lost when chat scrolls up.
Chat
- Most Wekan community and developers are here. Works on webbrowser and PWA app that can be added as icon on Android and bookmark on iOS, used like native app.
FAQ
NOTE:
About Wekan
Wekan is an completely Open Source and Free software collaborative kanban board application with MIT license.
Whether you're maintaining a personal todo list, planning your holidays with some friends, or working in a team on your next revolutionary idea, Kanban boards are an unbeatable tool to keep your things organized. They give you a visual overview of the current state of your project, and make you productive by allowing you to focus on the few items that matter the most.
Since Wekan is a free software, you don't have to trust us with your data and can install Wekan on your own computer or server. In fact we encourage you to do that by providing one-click installation on various platforms.
Requirements
Roadmap and Demo
Roadmap - Public read-only board at Wekan demo.
We also welcome sponsors for features and bugfixes. By working directly with Wekan you get the benefit of active maintenance and new features added by growing Wekan developer community.
Screenshot
More screenshots at Features page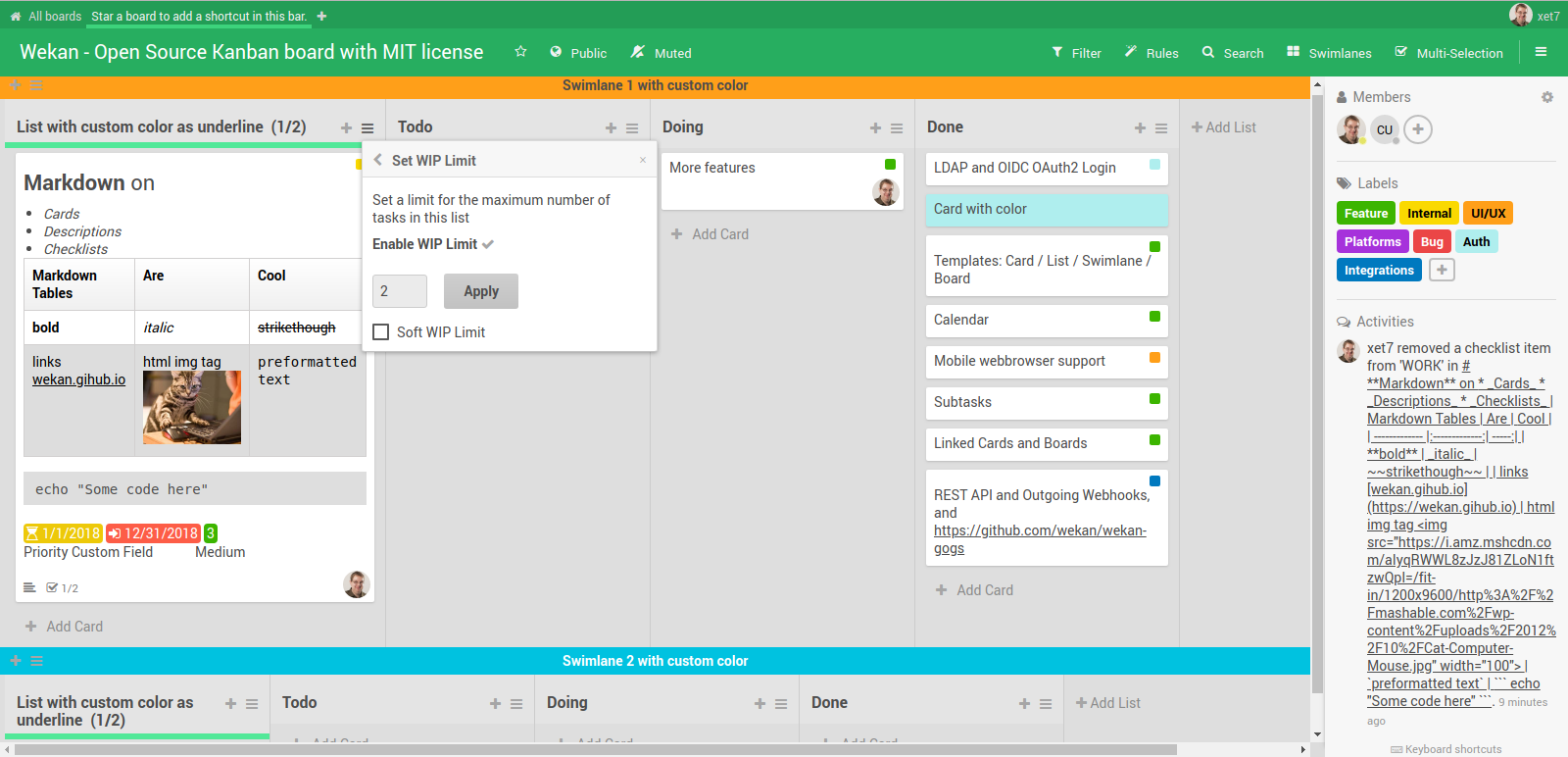 License
Wekan is released under the very permissive MIT license, and made with Meteor.